The Life Sessions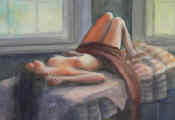 The Red Scarf, Watercolor
16" x 11"
It is nearly impossible to separate the painting process from the subjective view of the human figure, but that is the goal of a life drawing/painting session. I try to see the formal elements of color, line, shape, etc. in one wave of observation, and then to see how it relates to the scene before me. Deep shadows and warm colors, flowing lines, and rim lighting are all part of the arrangement that includes a model in an expressive pose. The problem is one of interpreting the mood and finding a way to express it paint. That is my challenge: but, often that is not the complete working process used to produce a figurative work of art. Accomplishing this may happen at a more leisurely pace in the studio, with drawing and photographs and maybe reference books (favorite artists, magazine photos, anatomy books, how to books).
When drawing or painting with the model, often it is all I can do, to capture the scene with some personal (my skills and interests) vision of fidelity and truth for the scene. My hope is that the challenge has worked itself into my recording skills and imagination.
Part of the joy of working in a life-model session, is being part of an art family, a support group. Iíve spent almost twenty years with the same group of artist. It is a pleasure, most of the time, to work side by side with a group of diverse, interesting, and accomplished artists. The "most of the time" is a bit of humor, but that is part of a good group. The humor, sharing, goal setting, and the comfort of being with people of a shared history and interest expand the sessions to being truly about "life" drawing/painting. Our sessions are not similar to academic exercises, but energetic gatherings full of discussions and personal anecdotes. A personal note: they have their children and family activities (something I hear about constantly) and I have my animals (something they must listen to). By the way, my baby lab/rott/cocker loves computer games, the Internet, and calculus -- also, she has a photographic memory.
-- Ray M. Hershberger 2001