SUPPLY LIST
FOR
WATERCOLOR CLASS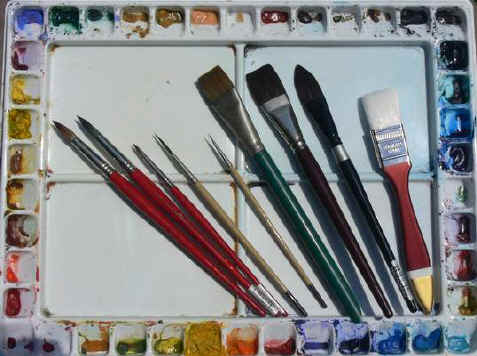 This is my current studio palette (not shown is a white plastic lid). It has more paint-wells than you may need (20 wells would work) and an expanded color selection.

In the upper left corner and coming down the left side are transparent / non-staining colors. Bottom left: semi-transparent colors. Bottom semi-opaque and opaque colors. Right-side: Transparent / Staining. Upper-side: earth colors.

Brushes from left to right: #12 round, sable; #12 round, Synthetic (Notice that the natural, sable is fatter at the ferrule and will hold more water, the sharper point of the synthetic indicates a very strong spring quality.); #6 round, #3 Rigger, #0 round, 1" Aquarelle, 1" flat, 3/4" filbert (cat's tongue); 1" flat "Skybrush"
Supplies: These are strongly suggested, but some substitutions are permissible. Materials will discussed in detail at the first session. Continuing students are encouraged to bring supplies for evaluation and comparison. New students may purchase supplies ahead of time or wait for more informed consumer information. Most supplies should be purchased from an Art Supply Store, an Art supply Catalog, or ordered on-line (search: art supplies or watercolor supplies or use the Supplier's Link Page).
A large flat, rectangular, covered palette with storage wells and mixing area
Paper towels and cloth towel. I recommend a paper towel in your free hand and the cloth towel in your lap.
Large mouth water container (some artists prefer two containers)

A sketchbook for drawing and notes
#2 pencils

Large Manila envelope (Fill this envelope with photographs -- magazine photos, post cards, calendar photos, snap shots -- that you would like to paint. Use this collection of ideas to plan projects that interest you for the class and beyond. This is important, because having available ideas is really the hardest part of creating art.
Paper:

3 sheets of d'Arches, 140 lb., cold press (30" x 22") These pages can be cut or torn (preferred: folding and using a straight edge) into quarter sheets (11" x 15"). Arches or d'Arches may be purchased in 11" x 14" tablet. This brand is very good for most techniques, other brands tend to be better for one technique or another. Many brands that are offered in tablets (spiral or taped) are surfaced sized, wood pulp-based and will not accept multiple glazes without lifting or mixing with the underpainting.
Brushes:

Should naturally point or chisel when wet. Most painters look for a combination of absorbency (an ability to hold lots of water) and spring (the ability to bounce back to the original shape, the opposite of limp). The following selection is very minimal and is just a guide. Brushes are very personal and most artists have several, partially because they continue searching for the perfect brush. Good brushes are not cheap.
Paints:

Tube paints are versatile and vibrant, and can be purchased in a variety of sizes and qualities. (Better paints are more concentrated and use genuine pigments. They also tend to be more expensive. If financially possible, buy professional grades and avoid colors that indicate that they are a "hue" of a color, i.e. Cadmium Red Light and Cadmium Red Light Hue are not the same pigments and therefore have different working properties. Professional grade paints are more concentrated and more vibrant. Student (academy) grade paints may have fillers, hue-colors, less concentration and less light-fastness..
Watercolors have different working properties, I have broken them into categories for future discussion. While this listing may seem complicated, it quickly becomes second nature. Other colors may be used; however, this is an example of a good light permanent palette.
Transparent and Semi-transparent / Non-staining Colors:

Aureolin: A bright, clear lemony yellow

New Gamboge: A clear, golden yellow

Rose Madder or Permanent Rose: A clear, cool red

Cobalt Blue: A clear blue, slight leaning toward green

Raw Sienna: A clear, earthy yellow

Burnt Sienna: A clear, earthy red-orange
Opaques and Semi-Opaques:

Cadmium Red Light: A red that leans toward orange

Cerulean Blue: A blue, leans toward green

Ultramarine Blue: A blue, leans toward violet

Transparent / Staining Colors:

Alizarin Crimson or Acra-Crimson: Strong, cool, clear red

Thalo Blue: Strong, cool, clear green leaning to blue

Thalo Green: Strong, cold, clear green

Yellow Ochre: A cool, neutral yellow

Burnt Umber: A warm, dark brown